Design Trends and Inspiration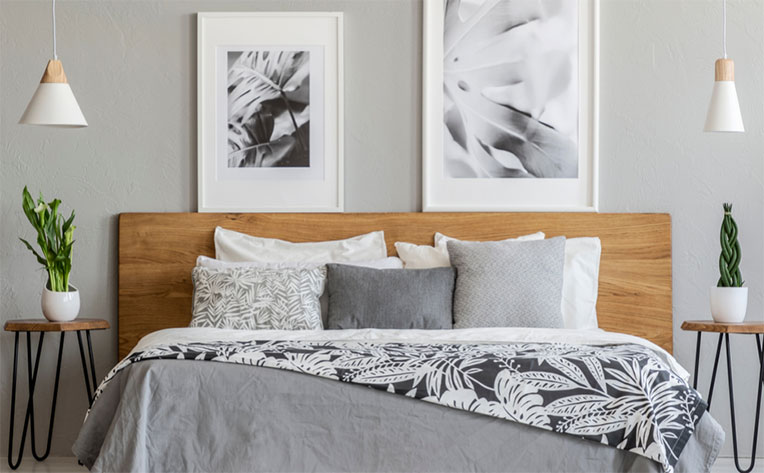 Jan 28, 2020
Back in March, our design blog covered the Color of the Year for 2019. With a new decade around the corner, we're back with an update for 2020! Move over, Living Coral: there's a new kid (or new color) on the block, with dozens of uses for any room in the home. Follow along as we reveal the Benjamin Moore Color of the Year for 2020, explore other trending paint colors to incorporate into your home, and offer some tips on decorating with color successfully.
The Interior Paint Color of the Year for 2020
Trending Popular Interior Paint Colors for 2020
Benjamin Moore is one of the country's largest and oldest paint companies, selling paints, stains, and related products since the 1880s. When it comes to the art and science of color, these are the experts you want to talk to!
That's why we wanted to find out which of its 3,500 paint colors the company would feature in 2020. We know you're just as curious, so let's get to the big reveal.
Drumroll, please! According to the company's official website, the Benjamin Moore 2020 Color of the Year is "First Light," a gentle baby pink evoking the earliest hints of sunrise. Here's how its creators describe it:
"A fresh palette. A revitalized spirit. A soft, rosy hue blooming with potential. Benjamin Moore's Color of the Year 2020, First Light 2102-70, is the backdrop for a bright new decade."
If baby pink isn't "your thing," don't worry — Benjamin Moore has already curated a stylish, easy-to-use palette for you. First Light is part of a 10-shade color scheme, the Color Trends 2020 Palette, which features shades of grey, taupe, and blue. These 2020 interior color trends include:
Blue Danube (2062-30)

Buxton Blue (HC-149)

Crystalline (AF-485)

Cushing Green (HC-125)

Golden Straw (2152-50)

Oxford Gray (2128-40)

Thunder (AF-685)

White Heron (OC-57)

Windmill Wings (2067-60)
These are expected to be some of the hottest and most popular interior paint colors of 2020. Now, let's explore some tips for incorporating them into your home!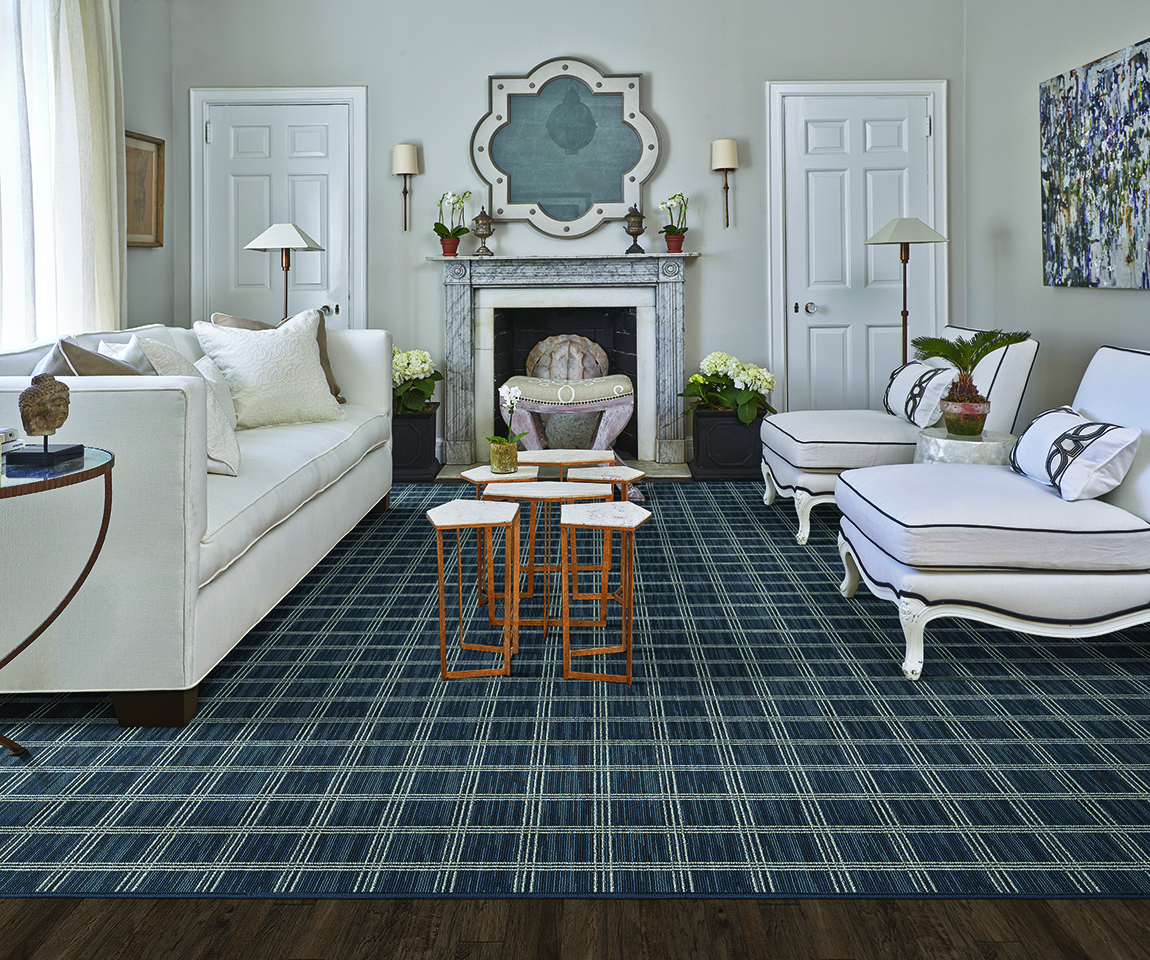 Kitchen Color Trends for 2020
All-black and all-white kitchens are both expected to be popular color schemes in 2020. However, not all homeowners want such a dramatic look. For an option that's more relaxed, yet still offers a touch of modernity and sophistication, you might prefer to decorate with one or all of the following, which are forecasted to be popular kitchen colors for 2020:
Aquatic shades of blue, such as turquoise and seafoam

Dark and medium greens, such as hunter green (which is similar to Cushing Green above)

Sunny, cheerful yellow hues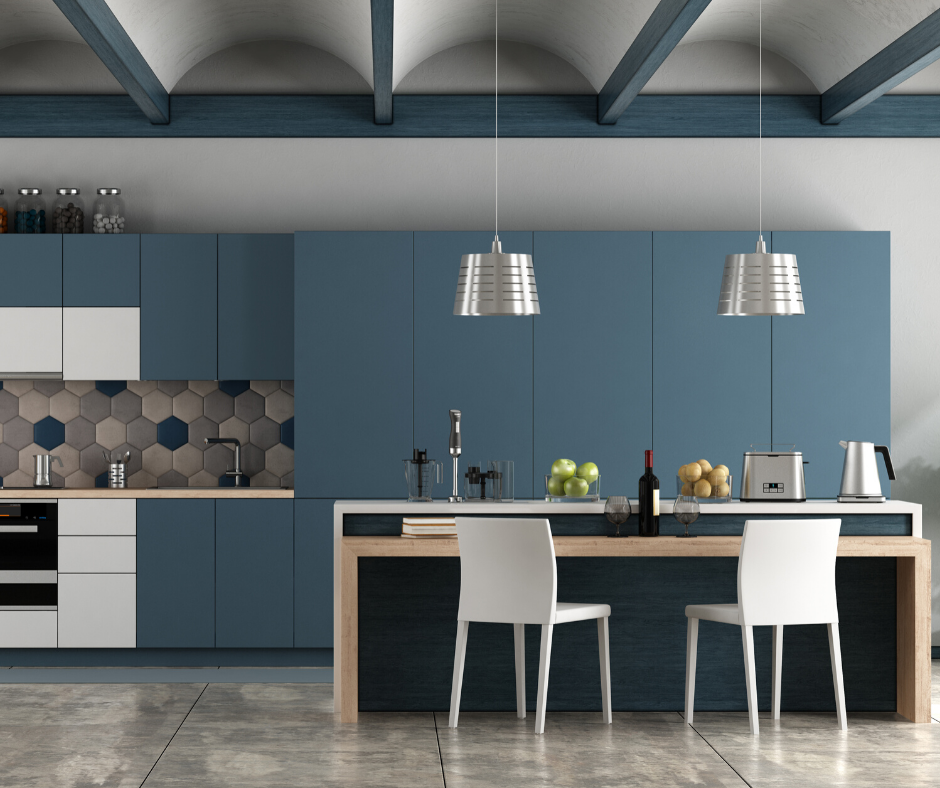 2020 Paint Colors for Bathrooms
Cool colors include blues, greens, and purples, while warm colors include yellows, oranges, and reds. Warm colors are expected to dominate the bathroom of 2020 (along with design trends like open showers, neutral tiles, and terrazzo flooring). According to interior design experts, some of the most popular bathroom colors for 2020 will include champagne, soft yellow, and pumpkin. Similar options include terracotta, clay, gold, and straw, like Benjamin Moore's Golden Straw paint color.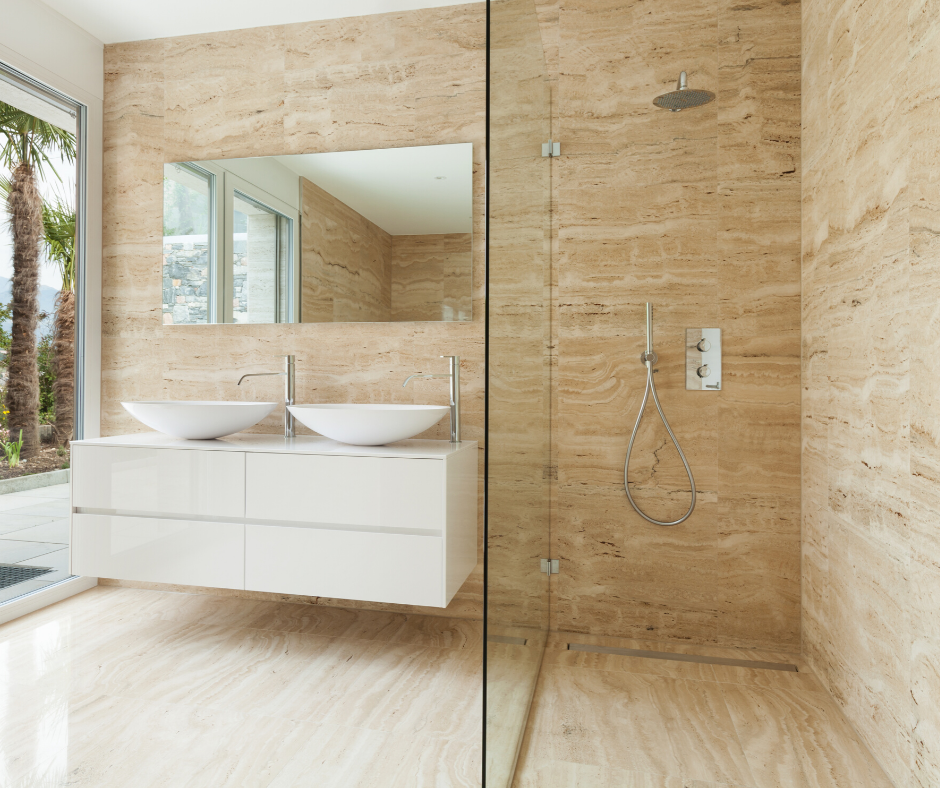 2020 Popular Paint Colors for the Bedroom
Your bedroom should be a serene and tranquil refuge, like a home within the home. (If it doesn't feel that way, check out our advice on making your bedroom into a private retreat.)
Creating the right feeling starts with the right color — something that will help you relax, unwind, and get a good night's sleep. Here are some trendy options to consider when you're choosing bedroom paint colors for 2020:
Dark, stormy blues (like Blue Danube or Buxton Blue)

Shades of grey (like Thunder or Oxford Gray)

Soft, pastel blues (like Windmill Wings)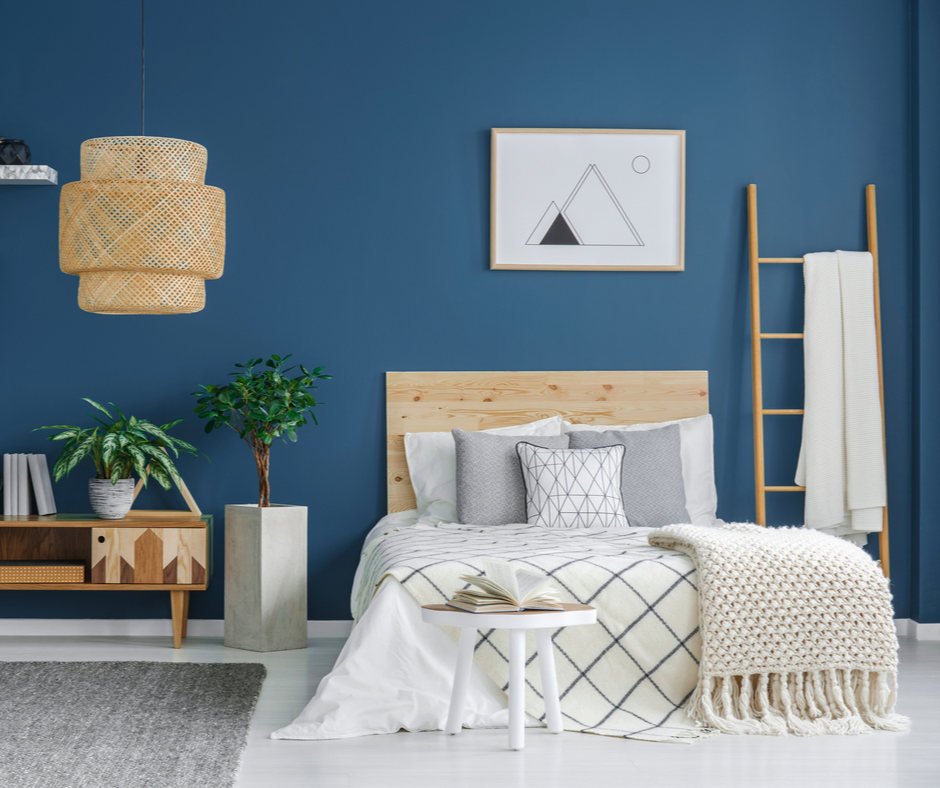 Explore 2020 Paint Color Trends for Every Room in Your Home
Whether you're updating your kitchen, your bathroom, your bedroom, or any other space in your home, get friendly design expertise and professional flooring installation from the team at Flooring America. We can help you compare thousands of products in a huge assortment of colors and patterns, making a trendy remodel effortless. Tour inspiring homes online with My Design Finder, contact us to chat with a team member, or visit one of our convenient retail locations today.
Continue Reading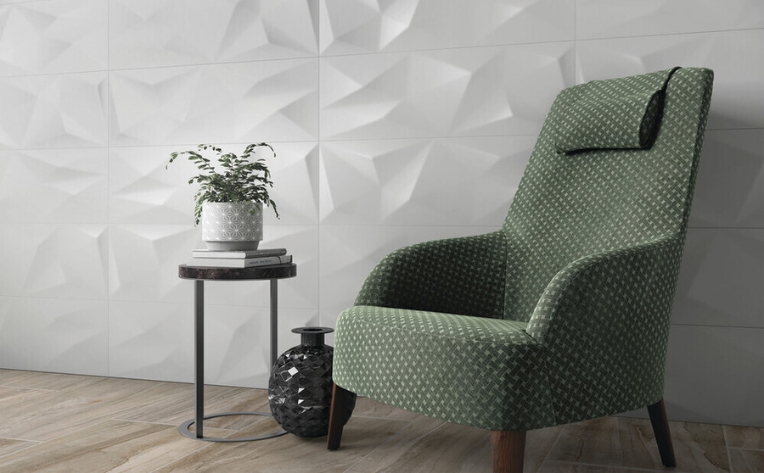 Jan 14, 2020
No, not Memphis, Tennessee. The Memphis design movement will be instantly familiar to anyone who was born during the 1980s or 1990s — and instantly memorable wherever it's used! Chances are, if you remember the opening credits of TV sitcom Saved By the Bell, you'll immediately get a striking example of Memphis design. Bright, geometric, and heavily stylized, the Memphis interior design style might not be to everyone's taste; but for fans, this iconic movement is a timeless source of inspiration.
That's great news for people who love the style since the Memphis design trend is one of the hottest looks in home interiors right now. Keep reading to learn about the characteristics of Memphis design, and get some ideas for incorporating it into your home or apartment.
Memphis Interior Design Ideas & Inspiration
What Are the Features of Memphis Design?
While art and design styles tend to overlap, there's no mistaking the Memphis look for anything else! Memphis design characteristics are unique and impossible to confuse with other interior design styles (which definitely makes shopping easy). But what, exactly, is Memphis design? Here are a few key elements to look for:
Mixed Patterns

— Memphis design is heavy on patterns, which usually mix geometric shapes (such as grids, triangles, or squares) with whimsical organic forms (like squiggles or spirals). Memphis design patterns can be incorporated into wallpaper, furniture upholstery, or even accessories like planters and coffee mugs!
Vivid Colors

— Typical "Memphis colors" are bright, even electric. Usually, a handful of colors are balanced against a white or black background, or a repeating black or white element. Look for colors like yellow, hot pink, aquamarine, acid green, purple, and cherry red.
Design Idea #1: Patterned Wallpaper
It's impossible to separate the Memphis design style from the unique, colorful patterns that give the style its foundation. But unless you're a professional artist, it's also impossible to recreate Memphis patterns by hand. The solution? Patterned wallpaper, which can be customized and ordered online.
Thanks to the recent popularity of the Memphis style, it's easier than ever before to find patterns (and palettes) you love! If possible, try to obtain a smaller test sample before committing to an entire room's worth of wallpaper.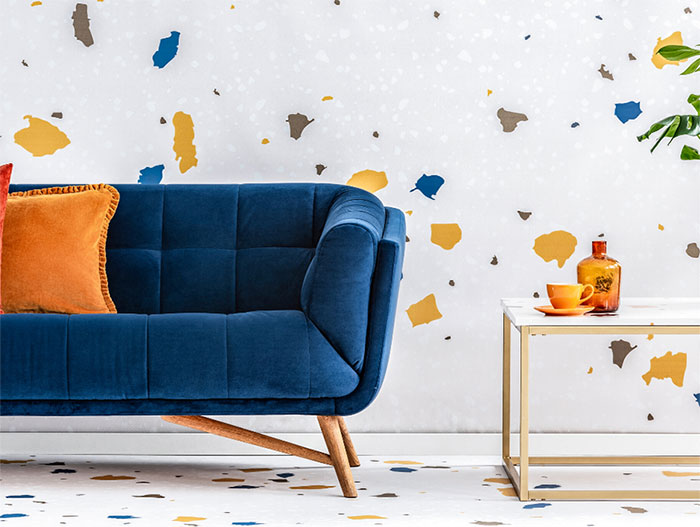 Design Idea #2: Terrazzo Flooring
You've seen terrazzo flooring before, even if you didn't know the name. Terrazzo features irregular fragments of glass, marble, and other materials, which are combined together and set with a smooth, polished glaze. Dynamic, playful, and a little bit chaotic, terrazzo tile makes the perfect aesthetic complement to any Memphis-style space. Highly customizable, terrazzo is available in a wide range of colors and pattern styles, adding even more character.
Design Idea #3: Plenty of Accessories
Your floors and walls aren't the only spaces to experiment with Memphis design looks. Don't forget to accessorize in any room of your home or apartment! With a quick online search, it's easy to find Memphis-inspired decor and accessories for any room or purpose, including planters, coffee mugs, pillows, shower curtains, drapes, dinnerware, lampshades, storage bins, and even welcome mats.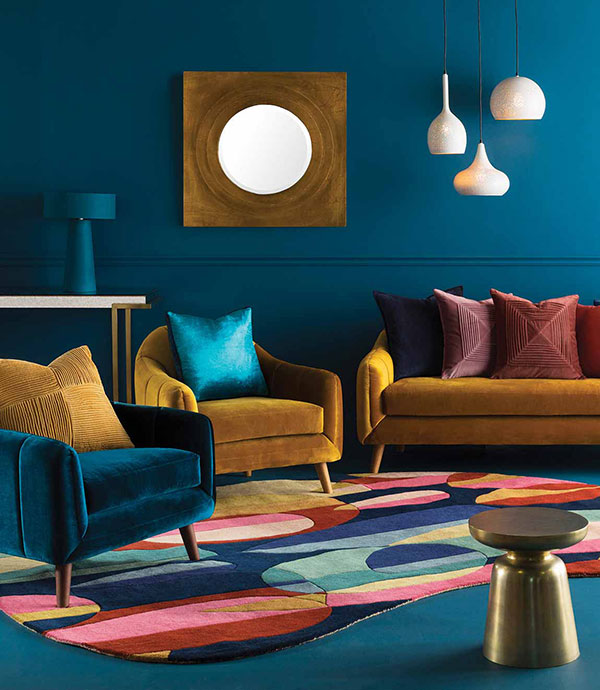 Explore Interior Styles and Trends with My Design Finder
Mad for Memphis? Discover more styles you love by exploring our design blog, checking out the beautiful custom galleries at My Design Finder, or consulting our friendly and knowledgeable team for ideas. We can help you reimagine and redesign any space to fit any style, from bathrooms and bedrooms to kitchens, basements, hallways, and more.
Contact us online to get started, or visit one of our showrooms in-person to see how our products look and feel. We carry thousands of brand-name products, including premium luxury flooring, budget-conscious flooring, and environmentally-friendly flooring. And with over 500 retail locations nationwide, you're never far from your favorite new look!
Continue Reading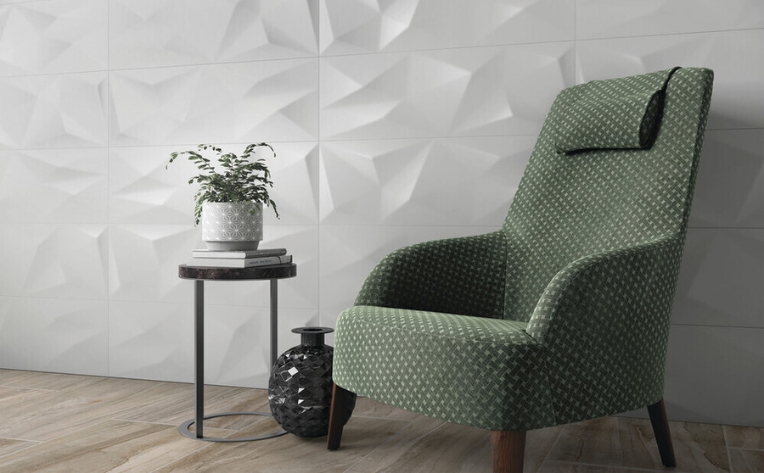 Dec 30, 2019
If you're like most homeowners, you probably don't give your kitchen cabinets too much thought on a daily basis. For most of us, after all, cabinets are simply a place to store our cups and dishes; but by ignoring your cabinets, you're also missing out on a fabulous opportunity to transform and elevate your entire kitchen look.
One of the easiest (and most affordable) ways to get more mileage out of your cabinets is to give them a fresh coat of paint. But which color to choose? To help you make a decision, we've put together four of the hottest and most popular color trends in kitchen design right now. Combined with options like trim and backsplash, the possibilities are endless!
Popular Kitchen Cabinet Color Ideas & Trends
Idea #1: Classic Beige
Beige might not be the most exciting color, but it's definitely one of the trendiest, dominating list after list of style must-haves for 2020. Both classy and classic, beige offers a backdrop that is warm, inviting, and mellow without being obtrusive: perfect for letting the meals and guests shine! A constantly popular color for kitchen cabinets, beige can be effortlessly blended with virtually any other color scheme, which makes this versatile hue ideal for all sorts of warm and cool palettes.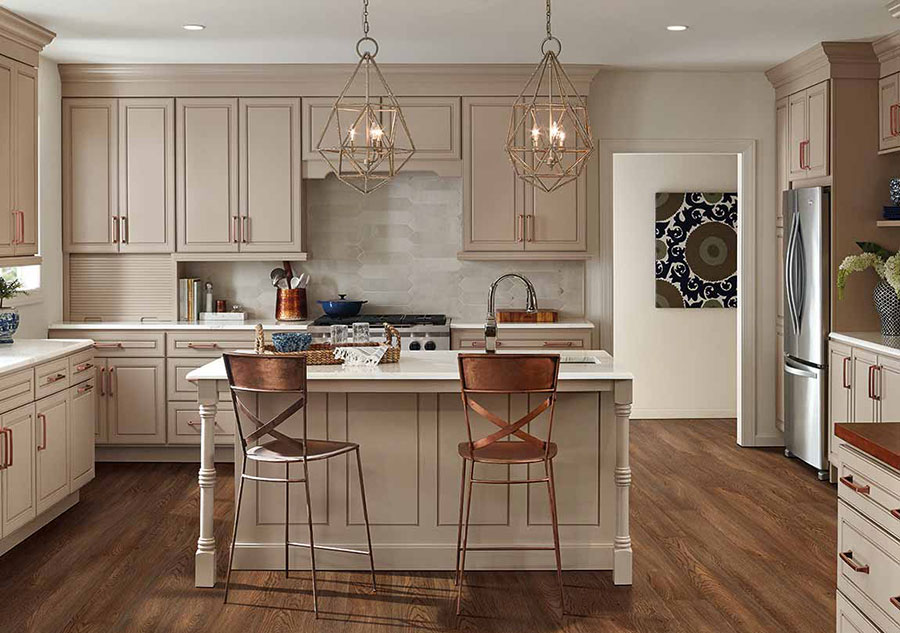 Idea #2: Elegant Grey
Cool, reserved, and slightly mysterious, grey is another chart-topping color that dominates trends for 2020. Of course, there are many versions of "grey," from gentle near-whites to stately charcoals. When you're deciding on dark or light, keep these basic design principles in the back of your mind:
Light colors tend to create an illusion of size or space, while dark colors tend to have a slimming or minimizing effect.

Light colors typically show more wear-and-tear, which means they might need slightly more maintenance.

Light colors can help to create an airy or summery feeling, while dark colors might be better for capturing a feeling of luxury or opulence.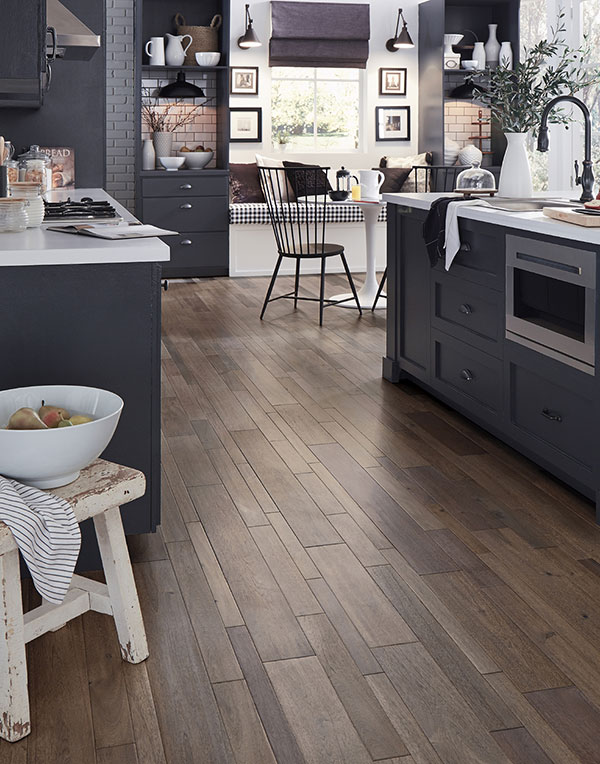 Idea #3: Timeless White
When it comes to designing a color scheme, nothing could be more simple or timeless than plain, pure, elegant white. A bright, white kitchen feels fresh and inviting, attracting all of your visitors and family members into the heart of the home.
Just keep one caveat in mind: since white shows stains clearly, you'll need to put in some extra effort to keep that squeaky-clean feeling. If you're up for the task, white cabinets can add a fresh, sparkling touch to your kitchen.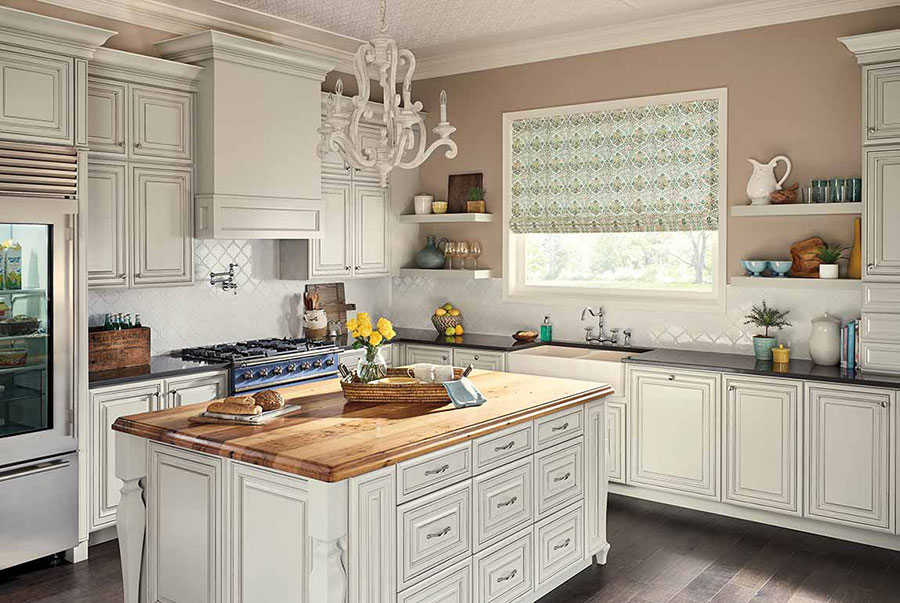 Idea #4: Sophisticated Wood
Who says color has to come from paint? If you prefer something more rustic or traditional, trade a painted finish for the natural elegance of plain wood. Whether genuine or artificial, wood kitchen cabinets come in a surprisingly broad array of colors and grain patterns, giving homeowners a great degree of flexibility. Wood can also be stained or painted to alter its original appearance, giving you even more power to customize.
For more kitchen cabinet color trends, check out some trending interior paint colors, or brush up on our tips for choosing a color scheme for your home.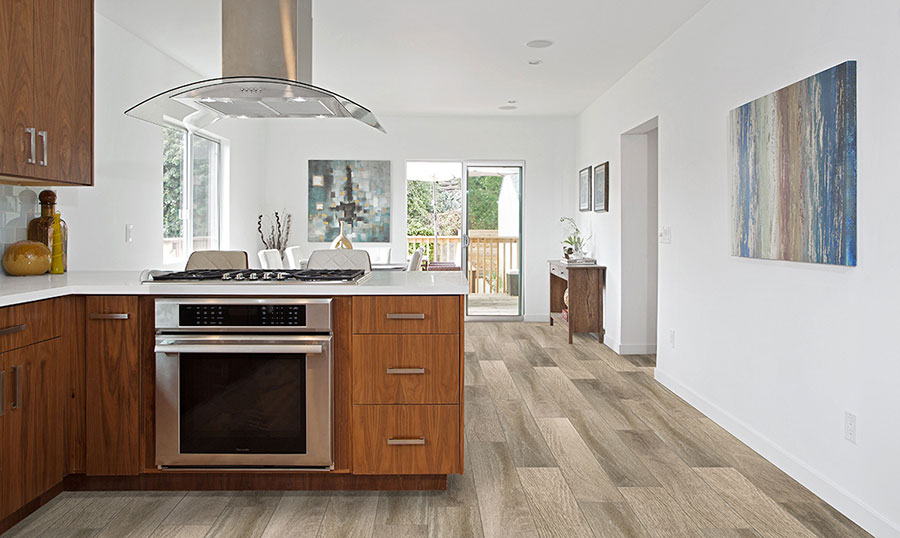 Get Inspiration for Kitchen Flooring or Backsplash Tile
Want to explore more kitchen cabinet color trends? Check out our design blog, or tour thousands of gorgeous rooms using My Design Finder, to see some of the best colors for kitchen cabinets. Customize your search to focus on modern kitchens, transitional kitchens, rustic farmhouse kitchens, coastal beach house kitchens, and more.
Once you've got some ideas in mind, ask the experts at Flooring America how we can turn them into reality. We carry thousands of top-quality, brand-name flooring products, including green options, luxury options, and pet-friendly options. If you can imagine a floor for your kitchen, we can find and install it. Contact us online to get started, or visit one of our convenient retail locations nationwide.
Continue Reading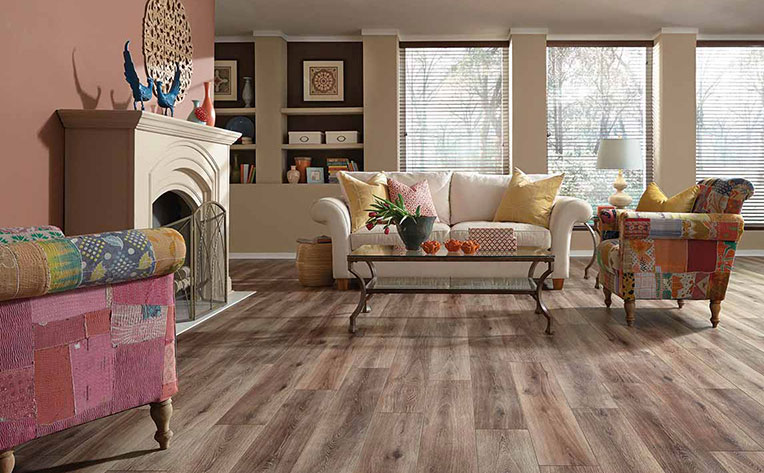 Dec 23, 2019
Even when a space is small, redecorating can be a big challenge; especially if it's your first time tackling a kitchen, bathroom, or bedroom makeover. The puzzle gets even more complex when you start to mix multiple styles, like blending beach house with Boho, or incorporating rustic touches into a modern, contemporary apartment.
No matter which styles you'd like to combine, following some simple rules can help you pull off a flawless look. We've compiled a few useful design "do's" and "don'ts" to help inspire you and get you started. As long as you keep these tips in mind, you'll be well on your way toward mixing interior design styles successfully!
How to Combine Decorating Styles
Can You Mix Interior Design and Furniture Styles?
Homeowners often ask us about mixing furniture styles and other elements of design. For example, we frequently hear questions like, "Can you mix interior design styles, even if they look very different?" or, "Can you mix different furniture styles in your living room?"
The short answer to both questions is, of course! But be careful: jumbling up design styles can lead to chaos fast, unless you have a strategy. To keep your vision on track, follow the tips below. If you get lost, don't panic: you can pick up the thread with our tips on how to match and coordinate furniture in any room.

Tip #1: Choose Two Themes
When you're working on an interior design project, it's always smart to come armed with a plan. Before you start shopping for wallpaper and furniture, the first step is to clearly identify the two styles or themes you'd like to combine. Some examples of popular design styles include:
Beach house and coastal styles

Memphis design styles

Nordic (Scandinavian) design styles

Rustic and cabin-inspired styles

Traditional styles

Transitional styles

Victorian styles
Not sure which style is for you? Don't worry: we've got all the advice you need on how to choose an interior design style.
Tip #2: (Don't) Go Against the Grain
It's hard not to love hardwood, but too many styles can start to clash, creating visual confusion. If you'd like to have multiple types of wood furniture in a single space — especially in a room that has wooden floors — try to establish a theme or pattern that helps tie individual elements together. For example, you can try repainting old wooden furniture, or applying a stain so that your color palette looks more cohesive.
You should also think carefully about how the new colors could blend (or clash) with the existing scheme in the rest of your home. Our tips on how to choose a color scheme for your home might make it easier to find a palette you love. (Don't forget about incorporating pastel colors, either!)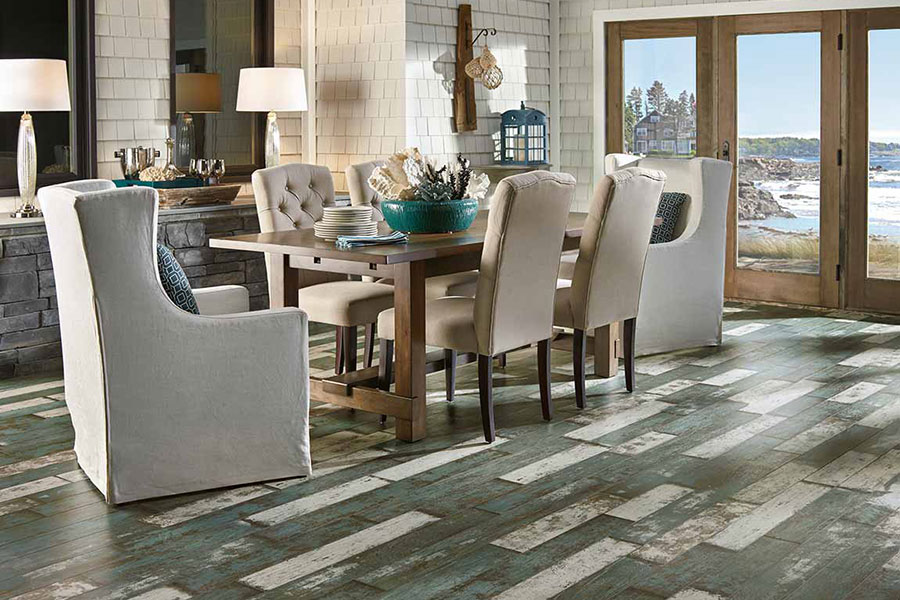 Tip #3: Make a Statement
When you start to mix and match multiple styles, it's almost inevitable that certain items, possibly even a few that you love will stick out as "off-theme." Make that something to celebrate! The black sheep of your furniture collection can also be its star, becoming the focal point for the entire room.
No matter what kinds of decor you have, choose one or two items to highlight as statement pieces. You can place them in prominent positions, draw attention to them with light, or simply let them speak for themselves!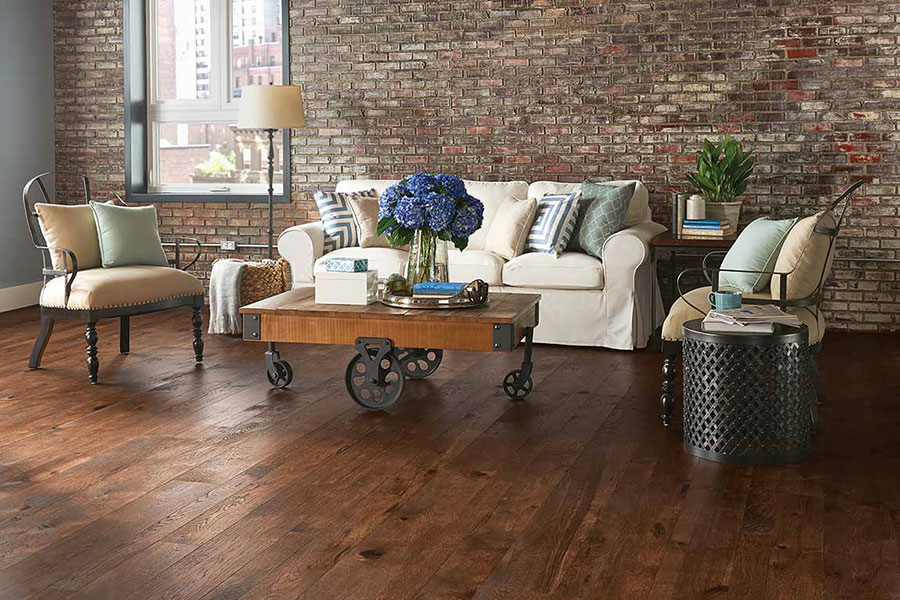 Explore Our Design Blog for Interior Style and Decor Ideas
There are countless ways to mix and match the elements of interior design, creating endless variety that's as unique as you are. Of course, when you have thousands of options to choose from, just getting started can be intimidating!
That's where the friendly, knowledgeable experts at Flooring America come in. We have years of experience helping homeowners choose quality flooring products in options like wood, tile, luxury vinyl, carpet, and more. We can help you find a floor that fits your style and your lifestyle, offering beauty, durability, and efficiency. Explore the tips on our design blog, tour virtual rooms with My Design Finder, or simply contact us online to get started!
Continue Reading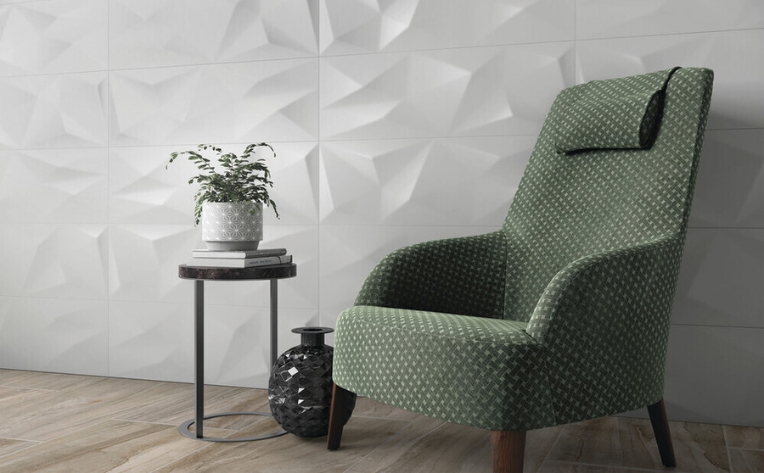 Dec 16, 2019
As any photographer (or selfie-taker) can tell you, lighting can make or break a look — not only when it comes to pictures, but in real life, too. Even the most opulent or innovative design can be spoiled by poor lighting, making it crucial to think about light when upgrading or redoing your kitchen. Read on for four kitchen light fixture ideas that are trending right now (with no signs of slowing down in 2020). No matter what your tastes might be, you're sure to find the right style to feature in your home or apartment.
Kitchen Lighting Ideas & Trends
Trend #1: Recessed Lighting
"Recessed lighting" may sound like a technical term, but don't let that intimidate you. Recessed lighting is simply lighting that has been pushed into, or hidden in, other elements of the kitchen. In contrast to traditional lights, which hang from a ceiling or project from a wall, recessed lights are tucked into their own niches, creating a finished look that's minimalistic, modernistic, and visually smooth.
Recessed lights can be installed in ceilings, behind cabinets, and over sinks, making them ideal for kitchen use. Plus, their unobtrusive design reduces the risk of accidents in the kitchen. If you think conventional lights are an eyesore (or if you're just sick of bumping into your floor lamps), recessed lighting might be the perfect design solution for you.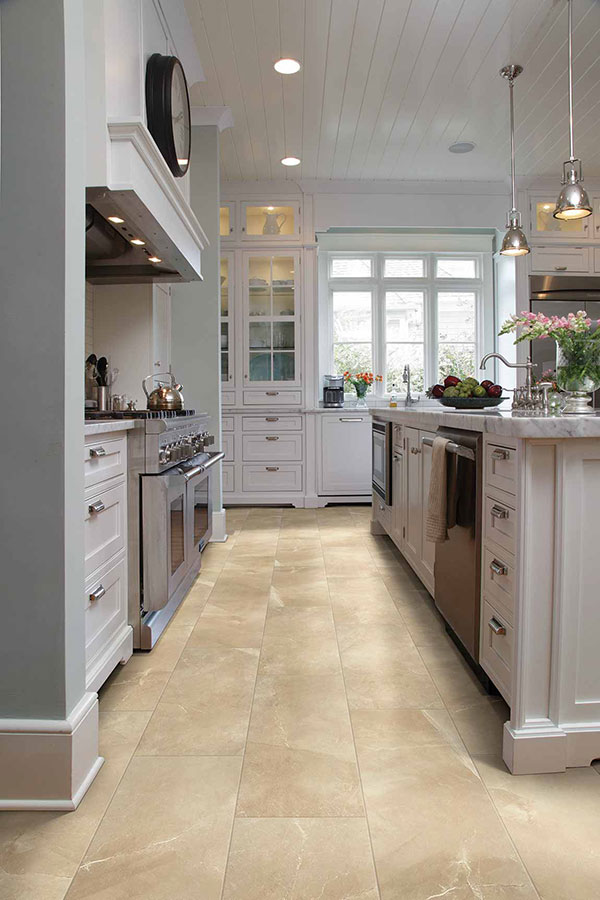 Trend #2: Mod Statement Lights
Funky, flamboyant pendulum lights (or pendant lights) are a must-have in chic hotels and restaurants. Why not bring the same contemporary feel to your kitchen? Eye-catching, oversized statement lights are gaining ground in kitchens all over America and they're sure to get your guests talking!
Pendant lights are especially well-suited to showcasing kitchen islands, placing them under a literal spotlight. They can also make good vertical use of kitchens with high ceilings.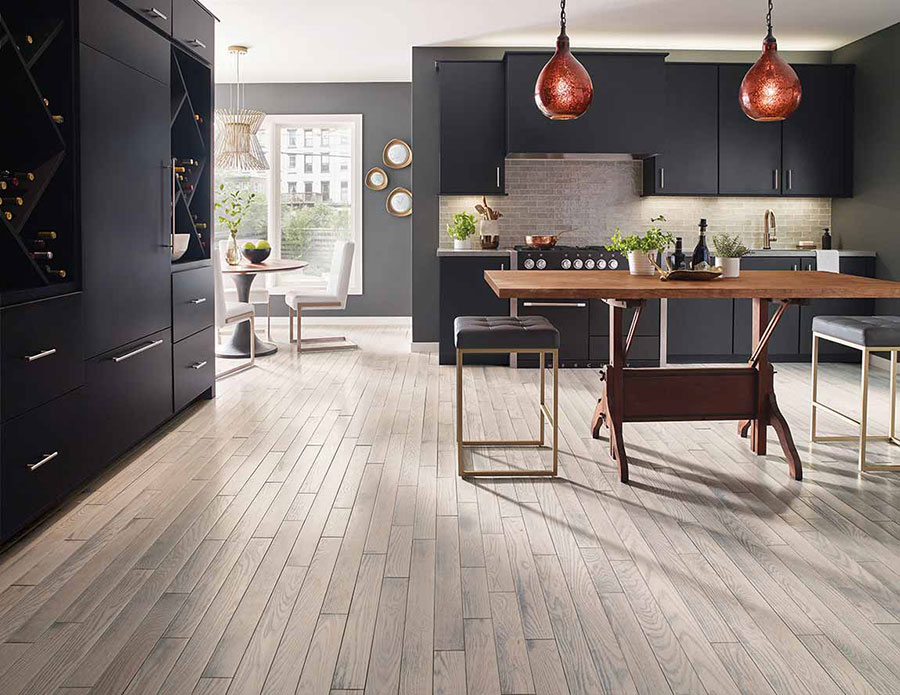 Trend #3: Luxurious Chandeliers
Luxurious and luminous, chandeliers are a crowd-pleasing option featured in homes for centuries. However, thanks to modern materials, homeowners can find affordable chandeliers that mimic the look of fine diamond or crystal at merely a fraction of the price.
Besides simply being beautiful, chandeliers come with another bonus effect: they tend to throw light in numerous directions at once, creating a dynamic, almost sparkling quality. For those who value tradition and elegance, chandeliers are a timeless style choice.
Trend #4: Kitchen Zone Lighting
Like the name suggests, "zone" lighting is lighting that targets specific regions or "zones" of your kitchen. While that might be overkill for a small kitchen, such as a galley kitchen in an apartment, it can be a life-saver for large, roomy kitchens that would feel washed out by overhead lighting.
Zone lighting also has another benefit: it allows you to use energy conscientiously, illuminating only the areas you need lit. That's good for the planet and your electric bill.
Get Kitchen Decor Ideas from Our Design Blog
Lighting is just one of many design elements. When paired successfully with color, texture, and pattern, light can beautify your kitchen and even create the illusion of additional space. To see stunning examples of trends in kitchen lighting, just explore the rooms featured on My Design Finder, or take a tour of our helpful design blog.
Ready for a kitchen upgrade? Ask the experts at Flooring America how we can help you get started. From porcelain and ceramic tiling, to classic hardwood flooring, to eco-friendly options like cork and concrete, we carry and install thousands of products to elevate the look of your kitchen. Contact us online to get started, or visit one of our 500+ convenient locations to check out our products in action!
Continue Reading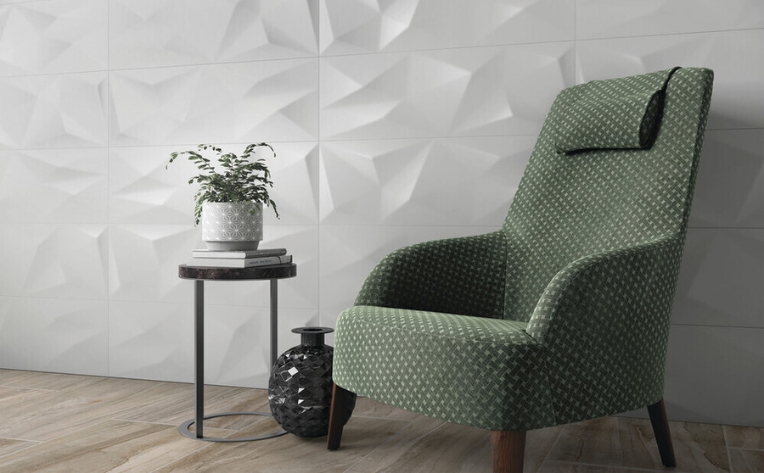 Dec 10, 2019
Ready to update your bedroom, but not sure where to get started? Why don't you consider swapping that boring old bed for a canopy style? Offering lush comfort, indulgent fabrics, and plenty of privacy, canopy beds are making a comeback, resurfacing as a style essential for 2020 and beyond. Keep reading to get inspired by our trendy canopy bed ideas (including ideas for small spaces)! Follow these tips, and you'll never want to get out of bed again.
Canopy Bed Design Ideas for a Bedroom
Are Canopy Beds in Style?
Canopy beds have enjoyed popularity in the United States since at least the 1800s. However, their history stretches all the way back to Europe's medieval castles and with one look, it's easy to understand why!
Imposing and elegant, canopy beds were once signifiers of wealth and power among the noble. Today's versions are less ornate (not to mention more affordable), but just as stunning as ever before. And with experts forecasting yet another canopy bed revival for 2020, this is one timeless trend that will never go out of style.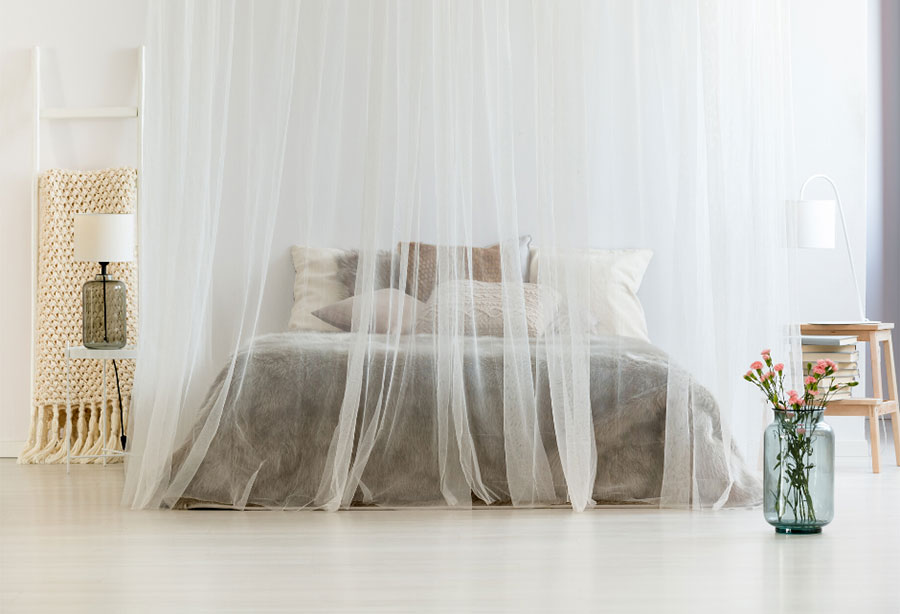 Will a Canopy Bed Make My Room Look Smaller?
If you're like most homeowners and renters, the last thing you want to do is "shrink" your space with a misguided makeover. It's an understandable concern, but you can set your mind at ease. Canopy beds are ideal for bedrooms of all sizes because their tall, open frames simultaneously add verticality while creating an illusion of depth. To make the most of the space in small bedrooms, design experts recommend choosing narrow frames.
Design Idea #1: Let Your Style Flow
Flowing, billowy sheets and curtains pair beautifully with the stark, crisp lines of a plain wood or metal canopy frame. Got the winter blues? Gauzy, cream-colored linens or cottons are perfect for capturing that easy, breezy beach house feeling all year 'round, no matter what sort of climate you live in. Accessorize with cute, cool-to-the-touch LED lights, which are light and flexible enough to be incorporated effortlessly.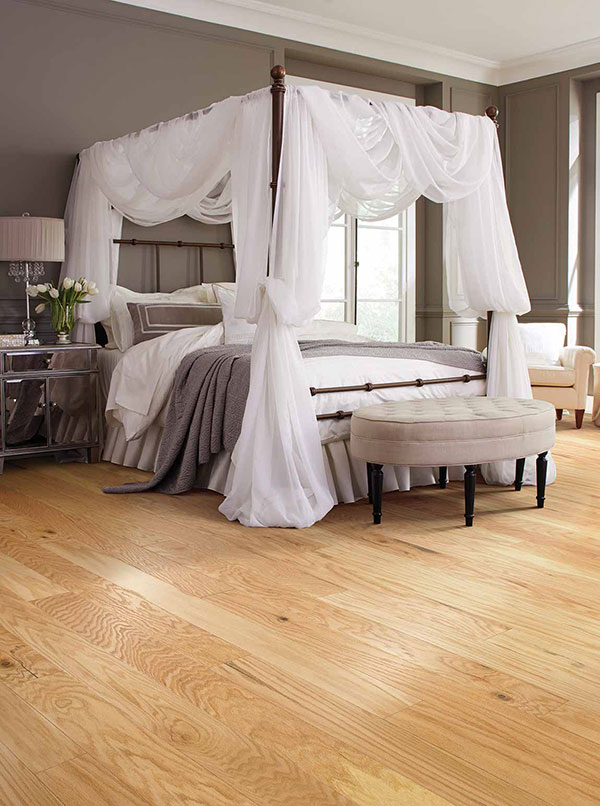 Design Idea #2: Go for the Bold
Bold, flashy, flamboyant prints can really showcase your sense of fun. Canopy beds are the perfect canvas because they create plenty of surface area (and unique angles) for bright and eye-catching patterns. When you're ready to change up your look, it's as simple as getting new sheets! Try pairing splashy patterns with solid colors, such as a few monochrome pillows, for visual balance.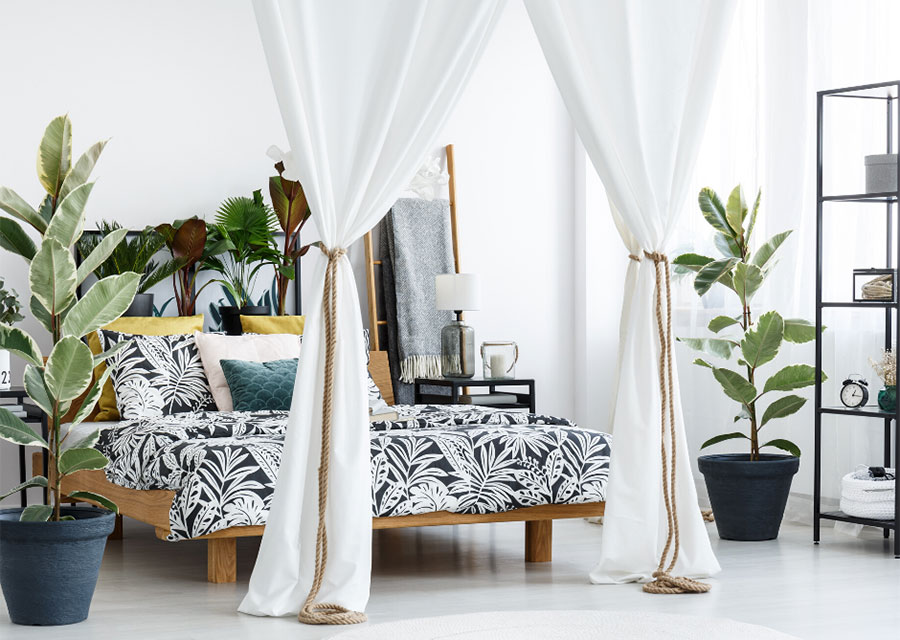 Design Idea #3: Take Half
Almost onboard with a canopy bed, but want a slightly less dramatic look for your bedroom? We hear you. For a toned-down (and space-saving) alternative, the half-canopy style might be just right. As its name suggests, the half-canopy is a smaller version of a standard canopy. From floor to ceiling, the height is the same; but instead of extending to all four bedposts, the frame projects only a few feet over the mattress.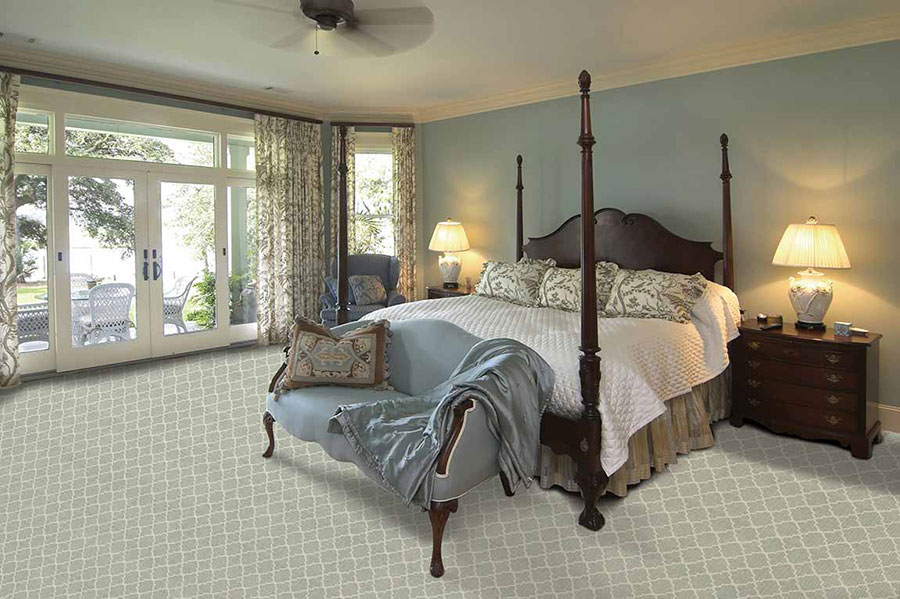 Get Bedroom Decor and Style Ideas with My Design Finder
With its flowing, dreamy lines and plush fabrics, a canopy bed is a perfect place to start your bedroom design makeover. Complete the look with beautiful flooring to truly transform your bedroom into your own private getaway. From cozy carpet to luxurious hardwood, we carry thousands of trusted, brand-name products in a wide assortment of colors, patterns, and styles to help make your bedroom a retreat.
For more tips on turning your bedroom into a stunning escape, explore our design blog, check out the custom style galleries at My Design Finder, or get in touch with our team about how we can help. Contact us online to start chatting, or visit one of our 500+ convenient locations in person!
Continue Reading